Comment and I'll add you to what I think you should be on, or comment with what you would like to see and you will see it. Thanks.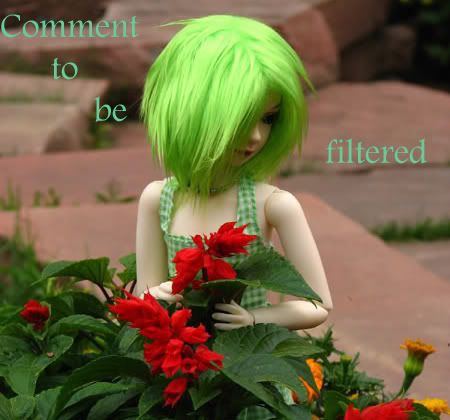 Filter Choices:
ALL ~ All of the following
NON DOLL:
PERSONAL ~ Things that are tagged with 'me' so meme's, horse stuff, life updates and what not. This includes doll sales and questions to my friends.
Personal has become the primary use of this blog.
DOLL STUFF:
SAGE ~ Sage specific shoots. Sage is a Soulkid Harang with a Angell Studio body. (Male MSD)
KAI ~ Kai specific shoots. Kai was a Elfdoll Red but changed into a Delf El. (Male SD)
HARU ~ Haru specific shoots. Haru is a 2005 Breakaway (Male SD)
LELARIA ~ My only big girl. She's a SID Eva from Iplehouse (Female SD) But you'll also see Rosie (Iplehouse Tania) on this filter. (Female MSD)
OTHER ~ Other is something not listed here. This may be Andrew (SDF Abadon), Kaoru (Angell Studio Gus), or any other doll I have to shoot at the time. Now contains Keiji (Luts Delf El before it was Kai)
GROUP~ Things that contain more than one doll.
SUGGESTIVE ~ I don't shoot doll porn. I may do some nude shots but never anything to graphic. So the suggestive filter is for things that people may consider sexual.
This journal is not 'friends only' but filtered. So you only see what you want to see :)
In case you're not aware, I have a travel blog.
Hello! Anyone who's interested in following my travel-blog please go add/watch/fav/whatever this account: